ICICI Bank Limited is an Indian multinational banking and financial services company headquartered in Mumbai, Maharashtra. ICICI Bank is the second-largest bank in India in terms of assets and market capitalization. It offers a wide range of banking products and financial services for corporate and retail customers through a variety of delivery channels and specialized subsidiaries in the areas of investment banking, life & non-life insurance, venture capital, and asset management. The bank has a network of 4882 branches and 15101 ATMs across India and has a presence in 17 countries including India.
Adding to India's mission towards digital transformation the FASTag is the new mandate issued by the government of India. The move is part of the government's plan to promote digital payments at toll plazas and decongest national highways, thereby ensuring the seamless movement of vehicles. As always ICICI Bank is at the forefront promoting this cause through its various channels and OneRing is proud to be associated with this innovative campaign.
What is FASTag?
FASTag is an electronic toll connection device installed in the vehicle to help drivers to drive through toll plazas without having to stop. FASTag is a simple to use, reloadable tag which enables automatic deduction of toll charges and lets you pass through the toll plaza without stopping for the cash transaction.
FASTag is linked to a prepaid account from which the applicable toll amount is deducted. The tag employs Radio-frequency Identification (RFID) technology and is affixed on the vehicle's windscreen after the tag account is active.
FASTag is acceptable across over 490 National Highways toll plazas and selected 39+ State highways toll plazas.
How to obtain FASTag?
FASTag may be purchased from over 28,500 Point-of-Sale locations set up by various banks and IHMCL/NHAI which includes all NH fee plazas, RTOs, Common Service Centers, transport hubs, bank branches, selected petrol pumps, etc.
For retail segment (car/jeep/van) FASTag may be purchased online on Amazon and by visiting websites of different member banks such as ICICI bank and other banks listed in the website www.ihmcl.com
FASTag has also been made available at over 12,000 banks branches of prominent private sector banks like ICICI bank, Axis bank, etc.
What are the charges for FASTag?
FASTag has a onetime fee of Rs. 200, Reissuance fee of Rs 100 and Refundable security deposit of Rs 200. (Note: The Security Deposit may vary depending on vehicle type.)
OneRing for FASTag
OneRing is proud to be a part of this digital milestone in our country. The ICICI Bank FASTag campaign is powered by OneRing's Missed Call engagement platform. By giving a simple missed call to the number published in the ad, the caller will receive all the necessary information to purchase FASTag from ICICI Bank.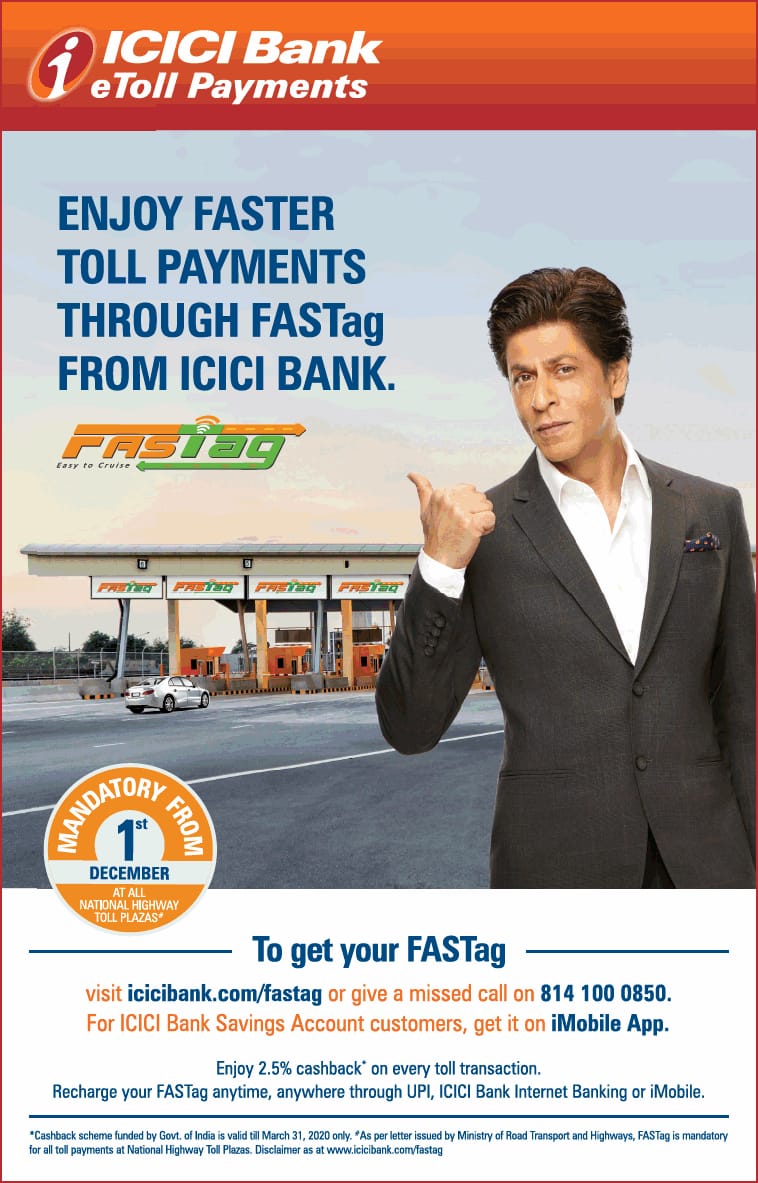 FASTag is mandated from 1st December 2019 for all vehicles, private and commercial. It is a wonderful initiative by the Government of India which not only saves time but also reduces fuel consumption and congestion at the toll plazas. We are very proud to be associated with this initiative.
If you have an innovative idea to use our Missed Call engagement platform, write to us at contact@onering.in or call us at 7874078740